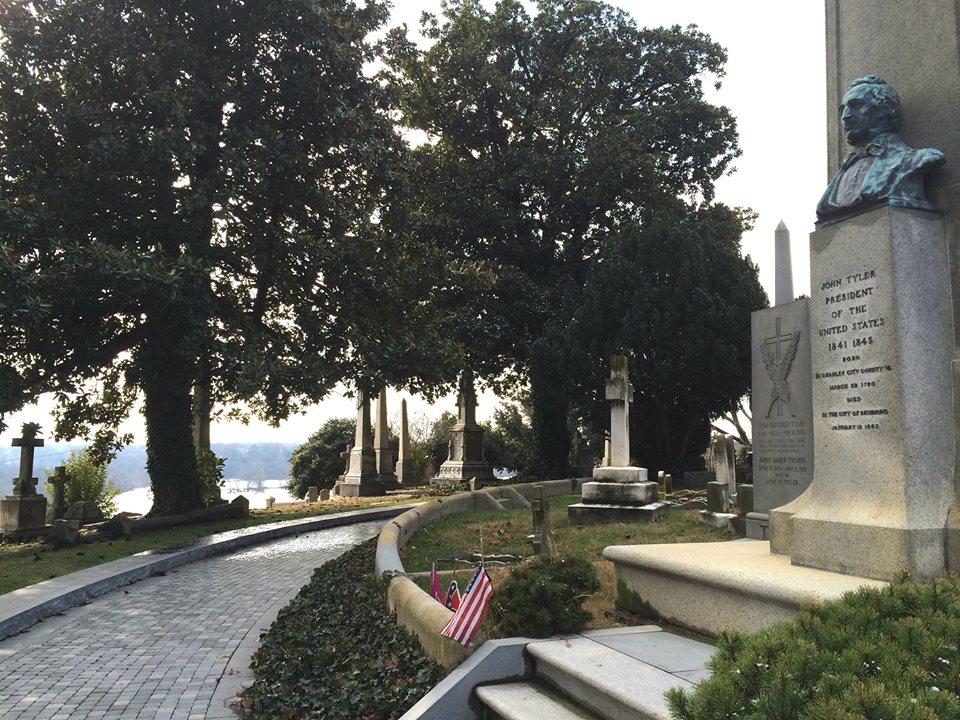 Friends of Hollywood Cemetery is a 501(c)3 organization that was founded in 2007 in order to meet the cemetery's growing need for private philanthropy. Friends' primary goal is the restoration and conservation of monuments, sculptures, and ironwork within the cemetery. They handle development programs for the cemetery, community outreach efforts and cemetery events, including tours, picnics and guest speakers.
With the aid of conservation consultants, Friends of Hollywood has identified and ranked monuments and ornamentation most in need of repair and enhancement. The cemetery's current income and endowment, however, is not enough to cover all the care and conservation needed to preserve this historic site.
Hollywood depends on the generous support of donors in order to ensure the long-term care of the cemetery. These donations are essential to the preservation of this historic cemetery for future generations.
Donate
Hollywood Cemetery is eligible to accept individual donations, as well as gifts from company-matching gift programs. When you donate to Friends of Hollywood Cemetery, your tax-deductible donation will go towards preservation and restoration projects in the cemetery, as well as several educational programs. Your generous support will ensure that countless visitors can continue to enjoy the stories, services and beauty of Hollywood Cemetery throughout the years to come.
There are three main areas in which your donation will be applied.
Preservation
Time has taken its toll on many of the historic monuments, decorative ironwork, and natural landscape at Hollywood Cemetery. Descendants of many families are no longer around to care for their family monuments. Preserving these works of art is paramount to the history of Richmond.
Genealogy
The stories of Hollywood are what make the cemetery such a special place. Through extensive genealogy research and preservation, Friends of Hollywood Cemetery are making strides to build out our digital database with the burial records of each resident of Hollywood Cemetery.
Technology
As a national treasure, Hollywood Cemetery believes it is important to make its rich history available to visitors both near and far. Through the use of virtual tours and digital storytelling platforms, Hollywood is undertaking a huge digitization endeavor so people all around the world can experience the stories of Hollywood Cemetery.
Click the Donate button to make a donation to Hollywood Cemetery today!

You may also donate via check. Please make your contributions to:
Friends of Hollywood Cemetery
412 South Cherry Street
Richmond, Virginia 23220
Annual Report
Thanks to the support of donors, Friends of Hollywood Cemetery is able to organize and complete numerous phases of restoration within the cemetery. Our annual report highlights the projects and achievements that have been accomplished due to the support and investment of individuals and organizations.
Click the Annual Report button to see a recap of our most recent projects.
Newsletters
Friends of Hollywood Cemetery sends a biannual newsletter recapping their current projects and initiatives and featuring interesting stories of Hollywood Cemetery, its history, and famous notables. Click the button below to see the archive of past newsletters.
Volunteer
There are several volunteer opportunities available at Hollywood Cemetery. Through volunteer work, the cemetery is able to preserve the unique landscape of Hollywood. For details on future volunteer opportunities, please visit our Events Calendar.
Officers and Directors
Kelly Jones Wilbanks, Executive Director
Nancy Shepherd, Development Associate
Edward M. Farley, IV - Chair
David L. Gilliam - Secretary
William R. Claiborne - Treasurer
Mary Lynn Bayliss, PhD
Elizabeth Rawles Cronly
Joseph R. Herbert
E. Bryson Powell
Elizabeth Wilkins Talley
Peter C. Toms