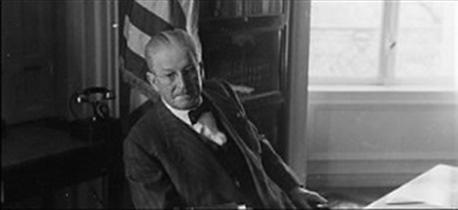 Alexander W. Weddell was born in the rectory of St. John's Church on April 13, 1876, the son of the Reverend Alexander W. Weddell and Penelope Wright Weddell. Young Weddell was only seven years old when his father died, leaving four young children and his widow to face life in genteel poverty. The youngster was tutored at home until he entered Richmond public schools at age eleven. As a teenager he spent his summers working sixty-hour weeks for the meager salary of $1.50 at a local grocery store to help support the family. Later, through family friends, young Weddell made his way into the banking and business world, but considering himself unfit for these jobs, he sought and obtained a post with the Library of Congress. He worked in the copyright office while attending law classes at George Washington University.
Then in 1907 he secured appointment as secretary to the newly appointed minister to Denmark and found his profession in the diplomatic world. His first assignment upon completing the foreign service exam in 1909 was Zanzibar. Stints in Catania, Sicily, Athens, Beirut, Cairo, and Calcutta followed as Weddell forged his diplomatic career.
By 1923 the forty-seven-year-old, tall, courtly Virginian was convinced that he would probably remain a bachelor for the rest of his life. In February of that year, however, a meeting for afternoon tea in a fashionable Calcutta hotel with some old Virginia friends and a vivacious widow from St. Louis quickly led to courtship. Weddell arranged to take his leave and met Mrs. Steedman's party in Rangoon, Burma. The romance continued on the trip back to the United States, and the couple married in St. Ambrose Chapel at the Cathedral of St. John the Divine in New York City four months after first meeting.
The couple returned to Calcutta late in 1923 where they remained until Weddell was transferred to Mexico City in 1924. Upon arrival in Mexico, the couple found a nation that was torn by revolution. Years of US intervention into Latin American affairs and resentment caused by the vast profits American corporations syphoned from their extensive Mexican holdings were fueling a strong "anti-Yankee" sentiment. Americans demanded restitution for the deaths of several US citizens during Poncho Villa's border raids into Arizona and New Mexico. Weddell, who initially sympathized with Mexican interests, found coping with corruption and bureaucracy extremely vexing and discouraging.
In 1928, deeply concerned about his wife's health, yearning to return to Virginia, and disappointed in his assignment by the Republican administration to Montreal, Weddell, a southern Democrat, resigned from the diplomatic corps. Weddell's retirement came to an end, however, in 1933 when he finally achieved his dream of becoming an ambassador, being assigned by Franklin D. Roosevelt to the mission to Argentina. He and his wife spent "five interesting and happy years in that wonderful country," after which Roosevelt offered Weddell the very difficult post of ambassador to Fransisco Franco's Spain in 1939. By 1942, advancing age, health problems, and the cumulative frustration of working with an unresponsive State Department and observing Nazi influence in the Madrid government convinced Ambassador Weddell to retire permanently from foreign service.
By 1943 the couple had returned to Richmond where he was elected president of the Virginia Historical Society, and she resumed her gardening and continued her charity work. On January 1, 1948, the Weddells, accompanied by their English maid Violet Andrews, were traveling to Arizona for the winter. During a blinding snowstorm, their Pullman car was rammed by another train, and all three were killed instantly.
Source of information: The Virginia Historical Society