Throughout the years, Hollywood Cemetery has been a place of remembrance, a place to mourn those we loved and a place to celebrate the lives of those who have passed on. By reserving a spot at Hollywood Cemetery, you can be assured that you or your loved one's legacy will live on among the beautiful scenery of Hollywood Cemetery.
Making arrangements in advance is the best way to give you and your family peace of mind both now and in the future. By pre-planning, you can protect your loved ones from the emotional and financial burden of making arrangements for you. Hollywood Cemetery offers several interment options, ensuring your spot in history.
Whether you are making advance arrangements for yourself or planning for a loved one, the staff at Hollywood Cemetery is ready to assist you with the utmost care and compassion as you make these important decisions.
Lot and Interment Options
Lot Fees: Space is available in all areas of the cemetery ranging from $4,000.00 to $6,000.00 per grave space.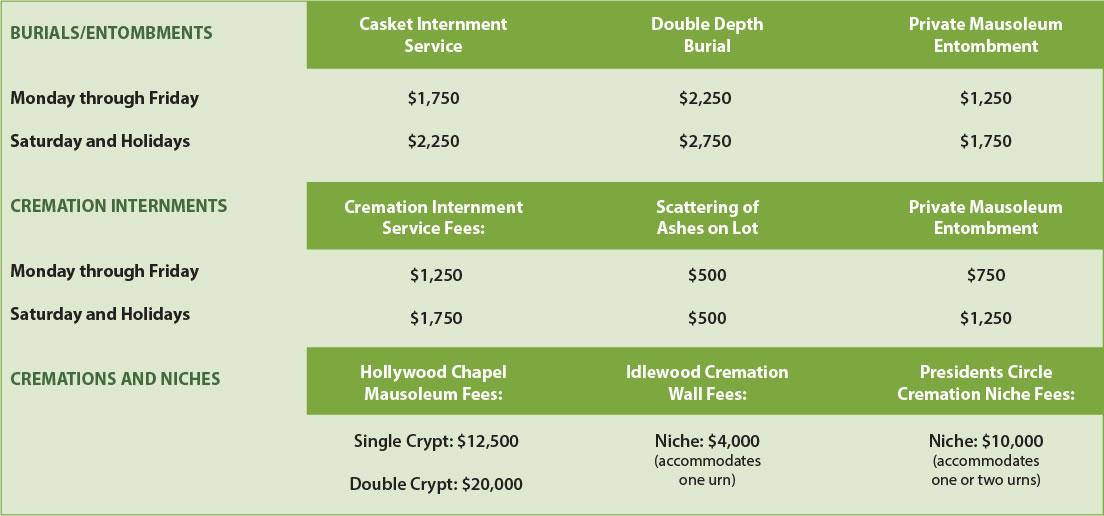 Note: There are no additional fees for casket or cremation entombment in the Hollywood Palmer Chapel Mausoleum, the Presidents Circle Cremation Niches, or the Idlewood Cremation Wall. The inscription is also included in the purchase price.