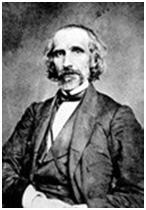 James Alexander Seddon was born in Falmouth, Virginia, on July 13, 1815. He was the son of Thomas Seddon, a merchant and subsequently a banker, who was descended from John Seddon, of Lancashire, England, one of the early settlers of Stafford County, Virginia; his mother, Susan (Alexander) Seddon, was a lineal descendant of John Alexander.
James A. Seddon entered the law department of the University of Virginia and graduated in 1835; after graduation he began practice in Richmond, where his abilities attracted immediate attention, and he became one of the foremost members of his profession in the state. Seddon was elected as a Democrat to the Twenty-ninth Congress (March 4, 1845 - March 3, 1847), receiving a handsome majority, although the district was usually uncertain; he declined a renomination in 1847, because his views were not in accord with the platform of the nominating convention; and he was reelected to the Thirty-first Congress (March 4, 1849 - March 3, 1851). His delicate health obliged him to decline another nomination, and he retired to Sabot Hill, his home on the James River, above Richmond. He took an active part in the debates during his service in Congress, and was acknowledged to be the leader of his party; his debates upon the reform revenue bill, in which he advocated free trade, were models of strength and erudition, and commanded wide attention.
In 1860 he was appointed, with John Tyler and others, a commissioner to the peace congress which, at the insistence of the state of Virginia, was held in Washington; he was placed on the Committee of Rules and, by the instruction of his state, made the minority report, recommending the amending of the Constitution according to the resolution that had been introduced into the Senate by John J. Crittenden. He was a delegate to the Confederate provisional congress and, upon the establishment of the Confederate government, was given the portfolio of secretary of war in the first cabinet of Jefferson Davis on November 20, 1862. In his contention with Governor Brown of Georgia upon the subject of conscription, he showed the strength of his personality; the principle of state sovereignty, according to Governor Brown, did not permit the general government to conscript the citizens of any state; carried out logically there could be no general government.
Upon the fall of the Confederacy, Mr. Seddon retired from public life and died in Goochland County, Virginia, on August 19, 1880.
Source of information: Encyclopedia of Virginia Biography, Volume III; Lyon Gardiner Tyler; New York: Lewis Historical Publishing Company, 1915.