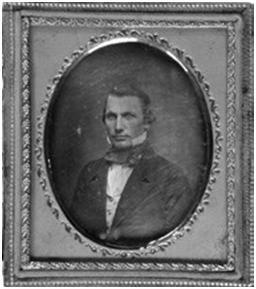 J.E.B. Stuart, popularly known by his nickname "Jeb," was the chief of cavalry of the Army of Northern Virginia during the American Civil War (1861 - 1865). A regular army veteran who participated in the capture of John Brown at Harpers Ferry in 1859, Stuart fought well at the first battle of Manassas (1861) but became a Confederate hero the following summer when he led twelve hundred troopers in a famous ride around Union Gen. George B. McClellan's Army of the Potomac. In particular he was praised for his ability to gather intelligence and act as Robert E. Lee's "eyes and ears," leading a second long ride later that year. At Chancellorsville (1863), Stuart temporarily led Thomas J. "Stonewall" Jackson's corps when both Jackson and A.P. Hill were wounded, and he helped to push Joseph Hooker's forces back across the Rappahannock River. Stuart cultivated himself as the epitome of Virginia's mythical cavalier, sporting a long beard and a plumed hat. He enjoyed staging elaborate reviews like the two near Brandy Station, Virginia, in June 1863, which attracted many local women. The day after the second review, Stuart's troopers fended off a surprise attack in the largest cavalry battle of the war, but soon after, another long ride around the Union army failed, hampering Lee's intelligence at the Battle of Gettysburg (1863). Stuart was wounded at the battled of Yellow Tavern and died one day later on May 12, 1864.
James Ewell Brown Stuart was born on February 6, 1833, in Patrick County, Virginia. The family farm, Laurel Hill, was not grand enough, perhaps to qualify as a plantation but was nevertheless run by enslaved labor. His family was socially prominent if not exactly prosperous. Stuart graduated from the US Military Academy at West Point, New York, ranking thirteenth of forty-six in the class of 1854. His classmates included fellow Virginians John Pegram and George Washington Custis Lee, both of whom were to become, like Stuart, major generals in the Confederate army. After graduation Stuart was brevetted a second lieutenant in the Regiment of Mounted Rifles and was assigned to duty in Texas, where he took part in the campaign against the Apaches.
He was commissioned to the substantive grade of second lieutenant on October 31, 1854, and was transferred to the new First United States Calvary on March 3, 1855, then headquartered at Fort Leavenworth on the Kansas frontier. On November 14, 1855, he was married at Fort Riley, Kansas Territory, to Flora Cooke, the daughter of Col. Philip St. George Cooke, and in the following month, December 20, 1855, he was promoted to first lieutenant. He was wounded in a skirmish with the Cheyenne Indians on the Solomon River in Kansas on July 29, 1857. In October 1859 he served as a volunteer aide to Robert E. Lee who had been dispatched to Harpers Ferry to deal with John Brown's raid, and under a flag of truce, attempted to negotiate the surrender of Brown and his followers. Hollywood has twice filmed this incident, with the role of Stuart played by Errol Flynn in Santa Fe Trail (1940) and by John Lupton in Seven Angry Men (1955).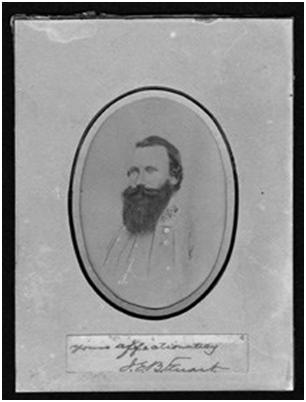 Stuart was promoted to captain on April 22, 1861, but resigned on May 14, 1861, shortly after Virginia's secession, to accept a commission as a colonel in the Confederate army. His father-in-law, one of the regular army's leading cavalrymen, did not follow suit, leading to a family breach. Stuart even renamed his months-old son, Philip St. George Cooke Stuart, after himself, James Ewell Brown Stuart Jr.
Stuart's first assignment was to Joseph E. Johnston's Army of the Valley as commander of the First Virginia Cavalry. In that capacity he executed a brilliant screening operation that so baffled Union Maj. Gen. Robert Patterson's Army of the Shenandoah that Johnston was able to extract his army from the Shenandoah Valley and march to Pierre G. T. Beauregard's assistance at Manassas Junction, tipping the first battle of Manassas in favor of the Confederacy. Stuart followed with his regiment and led a charge against the Eleventh New York Infantry (Ellsworth's Fire Zouaves) - one of the few successful cavalry charges in the dawning era of the rifled musket - that is credited with leading to the rout of Irvin McDowell's Union army. For these services he was promoted to brigadier general.
Stuart burnished his legend by executing the famed "Ride Around McClellan," leaving Richmond on June 12, 1862, with twelve hundred troopers and circling the Army of the Potomac in a three-day raid that supplied Robert E. Lee with the intelligence necessary to launch his counteroffensive against the Union right wing north of the Chickahominy River - which came to be known as the Seven Days' Battles - that ultimately resulted in the repulse of George B. McClellan's advance against the Confederate capital. This raid also contributed a badly needed boost to Confederate morale - then dwindling due to the loss of New Orleans and most of Tennessee and to the horrible bloodletting at Shiloh the previous April - and provided the Confederacy with a dashing, popular young hero cut from the cavalier mold. Consequently, Stuart was promoted to major general and given command of the cavalry division - later to become the cavalry corps - of the Army of Northern Virginia.
During the second Manassas campaign (1862), Stuart led an intrepid raid into John Pope's headquarters, collecting not only valuable material and intelligence, but also capturing Pope's dress uniform from the Union general's tent. During the Maryland campaign, Stuart's division screened Lee's army against Union cavalry probes and held vital passes against overwhelming numbers of the Army of the Potomac, gaining vital hours for Lee to concentrate his scattered army into a strong defensive position behind Antietam Creek. At the battle's end, he led a second raid around the Union army, causing US President Abraham Lincoln to remark, "When I was a boy, we used to play a game, three times around and out. Stuart has been around him twice. If he goes around him once more, McClellan will be out."
Stuart's finest hour came at the battle of Chancellorsville, where he had chosen largely to ignore Union Gen. George Stoneman's ineffectual raid against Richmond. Stuart's two brigades under Fitzhugh Lee and William Henry Fitzhugh Lee detected Joseph Hooker's flanking movement crossing the Rapidan River at Kelly's Ford above Fredericksburg, thus giving Lee ample warning to abandon his position on Marye's Heights and counterface to meet Hooker at Chancellorsville. There Stuart's scouts discovered the exposed flank of the Union army - the Eleventh Corps of Oliver O. Howard - enabling Jackson to execute the famed flank march that crushed the right wing of the Union army. With the wounding of Jackson and his senior division commander, A.P. Hill, Stuart was given temporary command of Jackson's corps, with which he harried Hooker's wing of the Army of the Potomac back across the Rappahannock while Lee, with the remainder of his force, met and defeated John Sedgwick's wing at Salem Church.
These brilliant achievements were cast under a cloud, however, when on June 9, 1863, the day after Stuart's second grand review and mock cavalry battle at Brandy Station, a Union cavalry reconnaissance force caught him by surprise. Although the Confederate horsemen rallied and drove back Union Gen. Alfred Pleasonton's raiders, this unprecedented show of Union enterprise so vexed Stuart that it caused him to apply to Lee for permission to mount a large-scale raid in the direction of Washington, DC, largely to redeem his wounded pride. Lee, then planning his second invasion of the North, somewhat reluctantly approved the raid. He specified, however that Stuart, his "eyes and ears," was to maintain contact with the main Confederate army, continuing to screen its movements from Union observation and to provide timely intelligence reports.
In his greatest bungle of the war, however, Stuart, after capturing 125 Union supply wagons near Rockville, Maryland, on June 28, 1863, chose to bring them into Lee's lines rather than to burn them and move quickly back to the army. Having sacrificed his mobility for a relatively insignificant prize, he was caught behind Union lines when the Army of the Potomac marched out of Washington , DC and was therefore unable to carry out Lee's prime directive. The lack of intelligence from his chief of cavalry forced Lee to concentrate his forces prematurely and to fight the subsequent Battle of Gettysburg without the quality of reconnaissance to which he was accustomed.
The campaign of 1864 saw a decline in the absolute dominance the Confederate cavalry had enjoyed early in the war. The loss of many of his veteran riders and teh growing inability to remount those who remained because of the Union occupation of the prime horse-raising country of western Virginia, Kentucky, and Missouri, coupled with the growing numbers and tactical skill of Union horsemen, the introduction of the repeating carbine, and the promotion of Philip H. Sheridan to commander of the Army of the Potomac's cavalry, greatly reduced Stuart's ability to move at will behind enemy lines. His corps was vital, however, in saving Richmond when, on May 7, Lt. Gen. Ulysses S. Grant slipped around Lee's flank following the battle of the Wilderness and headed south. Stuart outraced the Union army to Spotsylvania Court House and held this vital crossroads until Lee's infantry arrived to fortify the position.
During the long battle of Spotsylvania Court House, Sheridan convinced Grant that his cavalry corps could interdict Lee's line of communication and supply, threaten Richmond, and deal a perhaps mortal blow to Stuart's cavalry. Stuart intercepted Sheridan at the village of Yellow Tavern, some six miles north of Richmond, and there, although outnumbered more than two to one, repulsed the Union drive on the Confederate capital in a three-hour fight. In the battle's closing action, however, Stuart was mortally wounded. "Go back, boys," he told the men of the First Virginia Cavalry, his former regiment. "I'd rather die than be whipped." He was removed to the Richmond home of his brother-in-law, Dr. Charles Brewer, where he died one day later, May 12, 1864.
In the years following his death, Stuart came to be a leading symbol of the Lost Cause and of Virginia's Cavalier myth. Despite his reputation for flirtation and romantic charm, he was steadfastly loyal to his wife and children.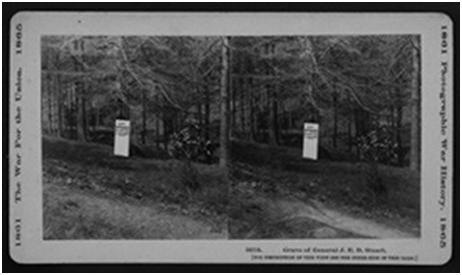 One of Stuart's great literary advocates was his wife's first cousin, John Esten Cooke, who also served as one of Stuart's staff officers. In newspaper dispatches during the war and in books after the war, Cooke glorified his commander's exploits, describing the famous Ride Around McClellan in terms of "the fun, the frolic, the romance—and the peril, too—of that fine journey." Although the admiration apparently was not mutual between the two men, Cooke was also responsible for a widely quoted description of Stuart's final moments, one that gave him, in nineteenth-century terms, the "good death" of a hero: "As his life had been one of earnest devotion to the cause in which he believed, so his last hours were tranquil, his confidence in the mercy of heaven unfailing. When he was asked how he felt, he said, "Easy, but willing to die, if God and my country think I have done my duty." His last words were "I am going fast now; I am resigned. God's will be done."
With Lee and Jackson, he has been enshrined as the third member of the "Holy Trinity" of the secular religion of the postbellum South, as illustrated in Charles Hoffbauer's large-scale mural "Autumn" from the Four Seasons of the Confederacy. Commissioned by the Confederate Memorial Association in 1914 and completed in 1921 for Richmond's Battle Abbey (now the home of the Virginia Historical Society), the paintings use the seasons of the year as a metaphor for the Confederate army's declining fortunes during the war. As Hoffbauer's work suggests, even during the fall of the year, Stuart will forever be remembered as the caped cavalier, leading his troopers through the Virginia woods and waving his plumed hat.
Source of information: Cutrer, T. W. (2012, September 18). J. E. B. Stuart (1833-1864). Retrieved February 14, 2013, from Encyclopedia Virginia: http://www.EncyclopediaVirginia.org/Stuart_J_E_B_1833-1864. Contributed by Thomas W. Cutrer, a professor of humanities, arts, and cultural studies at Arizona State University at the West campus in Glendale, Arizona.