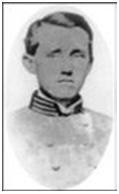 A "boy general," the youthful John C. C. Sanders may not have been the youngest general in the Army of Northern Virginia, but he may have looked like it; existing photographs depict a young man who looks barely old enough to shave.

Born in Tuscaloosa, Alabama, on April 4, 1840, Sanders actually grew up in Clinton in Greene County. He enrolled in the University of Alabama as a student in 1858. At the outbreak of the war, he was still a student there. He left his studies to enlist in the Eleventh Alabama Infantry. He was quickly elected captain of his company.
Sanders was severely wounded at the battle of Frayser's Farm during the Seven Days' Battle with the regiment - a shell fragment tore into his leg. Nevertheless, he remained on the battlefield till after dark.

Returning to duty on August 11, he took command of the regiment, formally being promoted as its colonel after Sharpsburg, where he was slightly wounded in the face by rocks tossed into the air by artillery fire, at the age of just twenty-two. Sanders fought with great gallantry, serving at Fredericksburg, Salem Church, Gettysburg, and into the Overland campaign. At Gettysburg, Sanders was wounded on July 2 in the knee by a minie ball but does not appear to have left the Army of Northern Virginia.
Sanders took command of Perrin's brigade after that officer was killed at Spotsylvania; Sanders's actions in the assault to retake the "Mule Shoe" resulted in him earning his general's wreath on May 31, 1864. He was assigned to command Cadmus Wilcox's old Alabama brigade in the Petersburg campaign.
He was conspicuous in the opening operations of the Petersburg siege and particularly in the battle of the Crater. His brave and distinguished Civil War career came to an end when on August 21, 1864, in the action along the Weldon Railroad, Sanders was mortally wounded. Advancing on foot, a minie ball severed the femoral arteries in both thighs. Sanders asked to be laid down and, within a few minutes, bled to death.
His body was taken to Richmond the next day and was placed in a vault in Hollywood Cemetery. From there he was interred in the Maryland Section for a short while, but his family decided to move his body to lot O-9, which was owned by John C. Page, a wealthy shoe merchant who had cared for him in 1862 after he had been wounded at Frayser's Farm. Somehow the exact location of his grave has been lost, and in 1971 a granite marker to his memory was erected in John C. C. Sanders Section R. The marker reads: IN THIS CEMETERY LIES GEN. JOHN CALDWELL CALHOUN SANDERS C.S.A. APR. 4, 1840 - AUG. 21, 1864, LEE CHAPTER U.D.C. 123 1971
Source of information: And Then A.P. Hill Came Up; 1997-2010 by Jen Goellnitz, the life and career of General Ambrose Powell Hill. The website Geni.com.