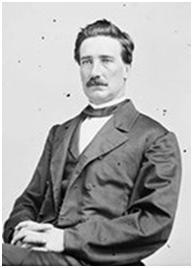 John Daniel Imboden was born near Staunton, Virginia, on January 16, 1823, Imboden had a typical childhood, attending school near Staunton. At age sixteen, he enrolled at Washington College in Lexington (now Washington & Lee University), but didn't graduate. He taught school for a while at the Virginia Institute for the Education of the Deaf, Dumb, and Blind in Staunton. Although a competent teacher, he chose to study law and opened a practice in Staunton, where he was twice elected representative to the Virginia legislature. Although he did serve in the state legislature, he was unsuccessful in his bid to be a representative at the Virginia Secession Convention. The policy he advocated was independent secession, and the maintenance of an independent state, which could mediate between the North and South and lead to the formation of a new Union, with local rights more clearly defined.
At the outbreak of the war, he was commissioned captain of the Staunton Artillery. As a conspirator in the plot to capture the Harpers Ferry armory and arsenal, Imboden's first military operation occurred on April 19, 1861, less than thirty hours after Virginia's secession, when the captain marched his Staunton Artillery into Harpers Ferry. He also commanded the battery at First Manassas, where he was wounded by a shell fragment, and won acclaim for his service there. There, he was just in time to take a good position near the Henry house as the Federal attack fell upon the Confederate flank, and immediately became engaged with the famous batteries of Ricketts and Griffin. For half an hour after the Confederate infantry were driven across Young's branch, Imboden's battery fought alone, finally retiring and taking a new position supported by Stonewall Jackson. There it was in action until the ammunition was exhausted. Subsequently Captain Imboden, Lt. Col. Robert B. Lee, and Maj. W. L. Cabell constituted a board of investigation, which reported in its explanation of the failure to pursue McDowell to Washington that the food and transportation were inadequate.
Leaving the artillery, Imboden organized a battalion of partisan rangers, which was redesignated the Sixty-second Virginia Mounted Infantry. He held a bridge at Mount Crawford during the battle of Cross Keys and participated in the battle of Port Republic. When Jackson left for Richmond, Imboden's little force, Robertson's cavalry and Chew's battery were left in the valley, and Imboden continued the organization of his force there and in the mountain counties.
Following his promotion to brigadier general on January 28, 1863, Imboden conducted his most famous campaign. From April 20 to May 27, 1863, he, in cooperation with Brig. Gen. William E. "Grumble" Jones marched his command of thirtyfour hundred men through northwestern Virginia to destroy railroad bridges and collect horses, mules, and cattle for the Confederacy. Imboden's route carried him four hundred miles in thirty-seven days. Torrential spring rains and mud slowed their progress, but his force destroyed eight railroad bridges, captured over one hundred thousand dollars worth of Federal animals and supplies, and rounded up thirty-one hundred cattle. His command did not participate in the grand reviews at Brandy Station, but when the Army of Northern Virginia marched northward to its date with destiny in Pennsylvania, Imboden's men went along, serving as the Confederate rear guard. They spent most of the battle in Chambersburg.
Imboden's finest moment occurred during the retreat. Given the important task of commanding the Army of Northern Virginia's wagon train of thousands of wounded, Imboden performed admirably, fending off the Federal cavalry and protecting the supplies and the vast number of wounded men. On July 6, he was trapped on the banks of the flooding Potomac River and scratched together a defensive force consisting of his brigade, some artillery, and the wagoner's. There, they defeated a combined force commanded by John Buford and Judson Kilpatrick, and saved the Confederate wagon train. It was a remarkable performance by a man unaccustomed to commanding troops in a stand-up fight.
After Gettysburg, Imboden continued to command troops in the Shenandoah Valley region. His next notable exploit was the surprise and capture of an entire Federal regiment, or nearly five hundred men of the Ninth Maryland Infantry, at Charles Town on October 18, 1863. After Grumble Jones was court-martialed and sent to the valley, Imboden served as his second-in-command until Jones fell leading his men into battle at Piedmont in June 1864. Imboden then served under Lt. Gen. Jubal Early's command during the Valley campaign of 1864 until he was incapacitated by typhoid in the fall of 1864. He spent the balance of the war on prison duty in Aiken, South Carolina.
Untrained as a soldier, John Imboden proved effective both as artillery officer and commander of partisan cavalry forces. In a time of great need, Imboden performed admirably at Williamsport and saved the Army of Northern Virginia's supplies and wounded from capture. No less than Robert E. Lee himself recognized the importance of Imboden's service during the retreat, and paid him the appropriate compliment: "In passing through the mountains in advance of the column, the great length of the trains exposed them to attack by the enemy's cavalry, which captured a number of wagons and ambulances, but they succeeded in reaching Williamsport without serious loss. They were attacked at that place on the 6th by the enemy's cavalry, which was gallantly repulsed by General Imboden."
Upon the ending of the war, he settled in Richmond and resumed his law practice. Later in life he moved back to Washington County, Virginia, where he helped develop the coal mining industry in the area. In the process, he founded the town of Damascus. Imboden died there on August 15, 1895.
Source of information: "Stonewall in the Valley" website, http://stonewall.hut.ru